Skip to Main Content
It looks like you're using Internet Explorer 11 or older. This website works best with modern browsers such as the latest versions of Chrome, Firefox, Safari, and Edge. If you continue with this browser, you may see unexpected results.
Check out our selections for February
Black History Month
In celebration of Black History Month, here are a selection of titles that explore a multitude of aspects of African Canadian lives, from education to artistic contributions and from literature to social conditions.
Freedom to Read/Intellectual Freedom
Freedom to Read Week takes place from February 19 – 25. This collection of titles explores the different ways and whys books have been banned around the world and offers up some solutions to effectively use "banned" books as a way to advance intellectual freedom.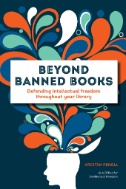 About Love & Relationships
With Valentine's Day coming up on February 14th, the month seemingly can't be decoupled from the idea of Love & Relationships. Check out this collection of titles on the challenges, intricacies and solutions to help you navigate contemporary intimate relationships.
International Day of Women and Girls in Science
To encourage and acknowledge the participation of women and girls in STEM (Science, Technology, Engineering, and Math) programs and careers, here are a selection of books that explore the intersection of gender in those fields.